Faculty of Arts Tour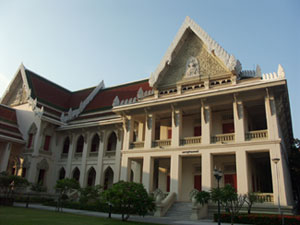 Maha Chulalongkorn Building the first building on Chulalongkorn University Campus, was designed through the collaboration of Dr. Karl Dohring—a German engineer, and Edward Healey, an English engineer. It was built by H.M. King Vajiravudh's royal command to serve as the head office of King Chulalongkorn's School of Civil Servants. The King himself presided over a ceremony to lay the foundation stone of the Thai style building on January 3, 1915. Subsequently, the date has been observed as the birth of the Faculty of Arts. When the school was changed to Chulalongkorn University on March 26, 1916, the building served as classrooms for the Faculty of Arts and Science.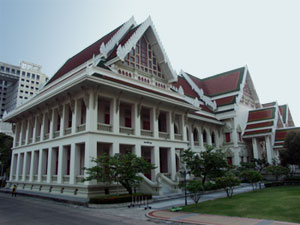 Maha Vajiravudh Building is now the location of offices of the Faculty of Arts, which include the Dean's Office, the Office of the Secretariat, the Office of the Arts Alumni, the Information Center for Humanities, the Student Self-Learning Center, the Tai-Kadai Ethnic Museum and an exhibition hall for the academic work of Faculty member.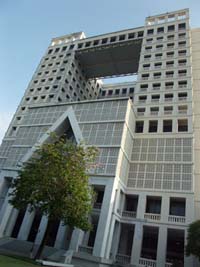 Boromrajakumari Building was unveiled by H.R.H. Princess Maha Chakri Sirindhorn on March 26, 1994. The foyer is where students can engage in academic and social activities. The second floor is the Faculty Computer Center. Classrooms occupy the third to the sixth floors. The seventh floor is designated for conference rooms of different sizes. Offices of the faculty occupy the eighth to the twelfth floors. The thirteenth floor houses the Office of Buddhist Studies, offices for international programs and journal, the Translation and Interpretation Center, the Office of Literary Study and The Office of the Thai Civilization Unit.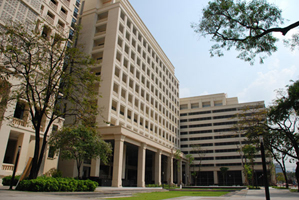 Maha ChakriSirindhorn Building This building was named by H.R.H. Princess Maha Chakri Sirindhorn. It consists of nine reading and conference rooms, seven language, computer and geography laboratories and ninety classrooms. These ninety classrooms are divided into twenty-four rooms that will are able to accommodate nine seats, twenty-four rooms of fifteen seats, twelve rooms of eighteen seats, six rooms of twenty seats, twelve rooms of thirty-two seats and twelve rooms of sixty seats