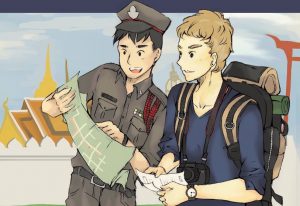 Focusing on basic listening and speaking skills used in everyday communication, the program provides a more flexible schedule in the evening for students unavailable on weekday mornings and afternoons. No reading and writing Thai text practice. Phonetic alphabet (Roman letters) used as an instructional tool.
WEEKDAY EVENING CLASSES : Mondays and Wednesdays or Tuesday & Thursday from 18:00-20:00
*In case the course on the days you choose cannot be opened, you will be asked to change the days or refund.
Duration : 40 hours (3 months)
FEE : 9,500 THB/course (including ebook) / 10,000 THB/course (including paper-book delivery)
Many of our teachers have graduated from the Faculty of Arts, Chulalongkorn University. They are proficient in both Thai language and linguistics and have many years of experience in teaching Thai as a foreign language. We are committed to offering the highest quality Thai programs for interested learners as well as providing an enriching and enjoyable classroom environment. Three courses are available for beginners.
Guideline to CTB Course
Each course consists of 40 hours of instruction and assessment. Upon completion, students will gain mastery of basic listening and speaking skills required in everyday communication as well as an understanding of Thai culture.
Schedule of CTB Online Course