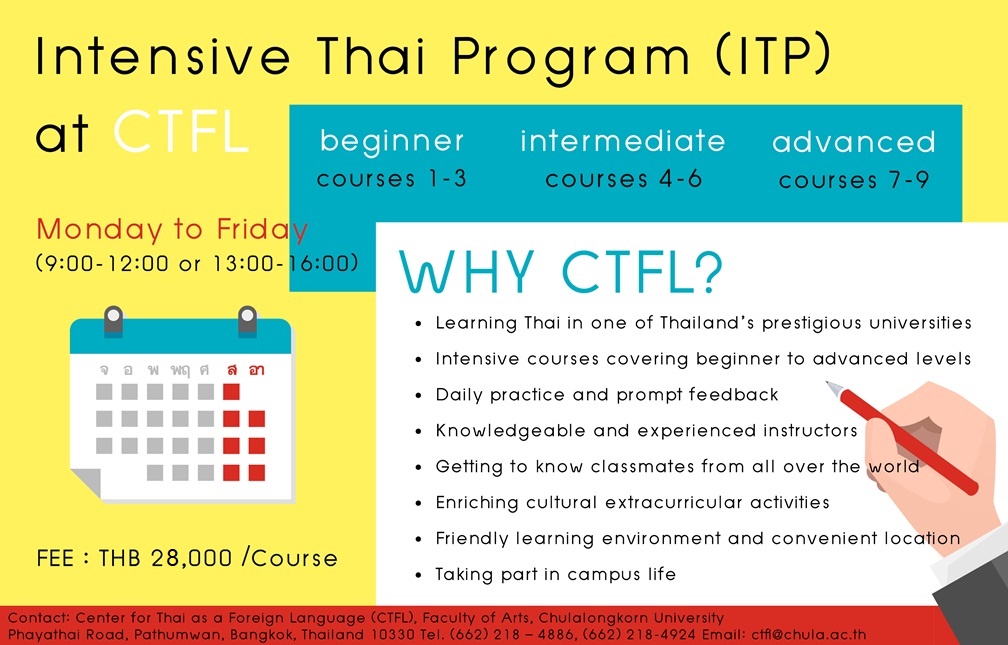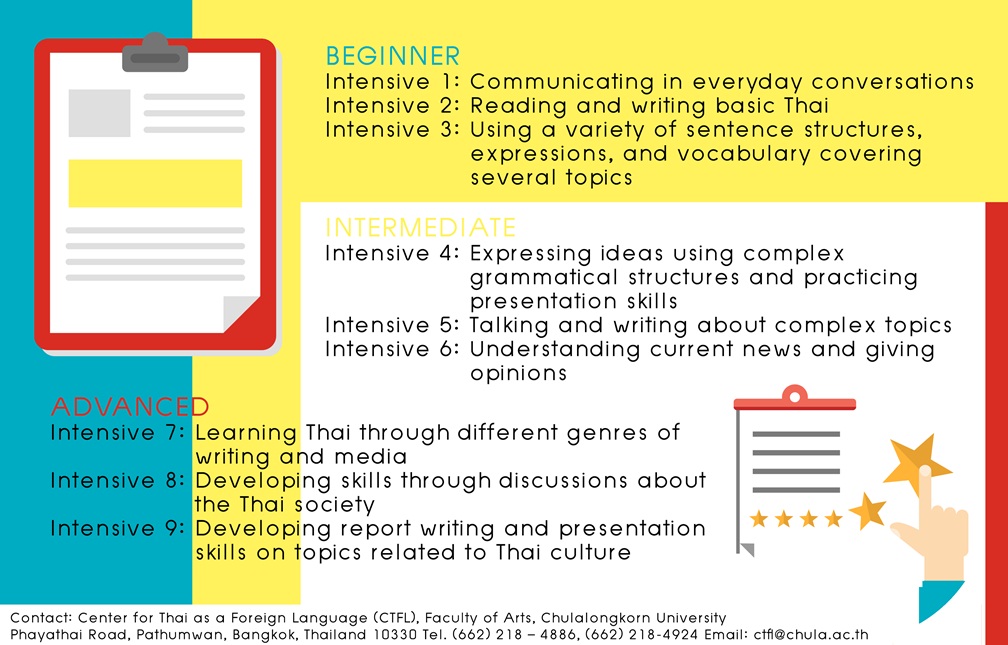 For over 30 years, the Faculty of Arts, Chulalongkorn University has offered a wide selection of Thai language and culture courses for foreigners for various purposes: academic improvement, business, or personal enrichment.
The program consists of three levels—beginner (courses 1-3), intermediate (courses 4-6), and advanced (courses 7-9). Each level consists of three 6-week courses of Thai language instruction. Students at the advanced level will also focus on society and culture in addition to the Thai language. Classes run from Monday to Friday. Apart from learning Thai, students will engage in cultural exploration through participation in extra-curricular activities and sightseeing trips offered by CTFL.
LEVEL : Beginner (1-3); Intermediate (4-6); Advanced (7-9)
COURSE DURATION :
from Monday to Friday(9:00-12:00 or 13:00-16:00) for 6 weeks including the examinations
(100 hours : (5 days x 3 hours x 6 weeks)+ 10 hours for Extra Activities)
COURSE START : every course starts at the odd months.
(Advanced level 7-9 are rotated courses which you can start from 7-8-9, 8-9-7, or 9-7-8)
MATERIALS : included
SYLLABI : (click on each banner to download syllabus)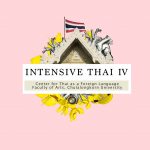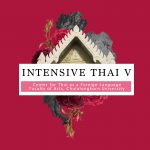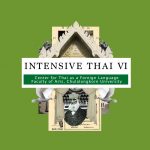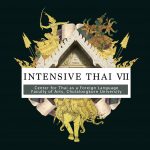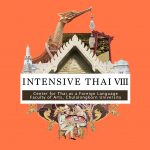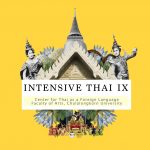 PRICE :
28,000 THB/Course (Payment is allowed up to 3 courses in a time.)
Guideline to Intensive Thai Program
Each course consists of 100 hours of instruction, extra-curricular activities and assessment. Intensive Thai 1 will focus on basic listening and speaking skills. From Intensive Thai 2, the students will learn Thai letters.
Schedule of Intensive Thai Program in 2019



Student Card and Benefits
CTFL is not responsible for the visa application process. However, upon request, we can provide a letter of admission as a supporting document for a visa application. See Information about ED Visa.
Students who enrolled Intensive Thai Program will obtain student card from Chulalongkorn University. It is available for student to use facilities as listed below.
Center of Academic Resources (Central Library)
The library is located in the Maha Theerarachanusorn Building. It consists of six units: the central library, the national document center, the audio-visual center, the international information resources service, the art gallery and the distance learning network (CU-GDLN). All six units provide services covering every form of information resource, i.e., books, periodicals, printed matter, databases, audio-visual materials and electronic materials. There is also cyber zone on the second floor to browse the internet.
CU Book Shop
CU Book shopM consists of two large, convenient, modern store branches on campus: at Sala Phra Kieo (near the faculty of Economics), Siam Square (1 st floor, Wittayakit Building), and Chamchuri Square (4th floor, Chamchuri Square). The bookshops provide customers with a variety of books in both Thai and foreign languages, CD ROM, magazines and other educational medium. Students can show their student ID card to receive a 10% discount (except for certain items i.e. magazine). More information at Chulabook Website.
CU Health Service Center
The Health Service Center provides medical consultation and treatment for CU faculty members, students and employees. It has been in service for over twenty years. There is further supervised by doctors from Chulalongkorn Hospital everyday. Located on the 2nd floor of the Jamjuree 9 Building from 8.30 a.m. to 3.30 p.m., Monday through Friday (without lunch break). More information in Thai at CUHC Website.
CU Cooperative Store
The CU Cooperative store is patronized by teaching staff, students, other CU personnel, as well as by the general public. Its success has attracted groups of foreign visitors to come to view its operation. The main branch of CU Cooperative Store is located at Sala Phra Kieo; the second is at CU dormitory.
Sports Facilities (1,000฿/month)
Chulalongkorn University offers a number of sports facilities which include Chulalongkorn Stadium, Indoor Sports Gymnasiums, Tennis Courts, Futsal Field, Swimming Pools, Fitness and Body Training Facilities and CU Sports Complex. More information in Thai at Chulalongkorn University Sports Center Website.