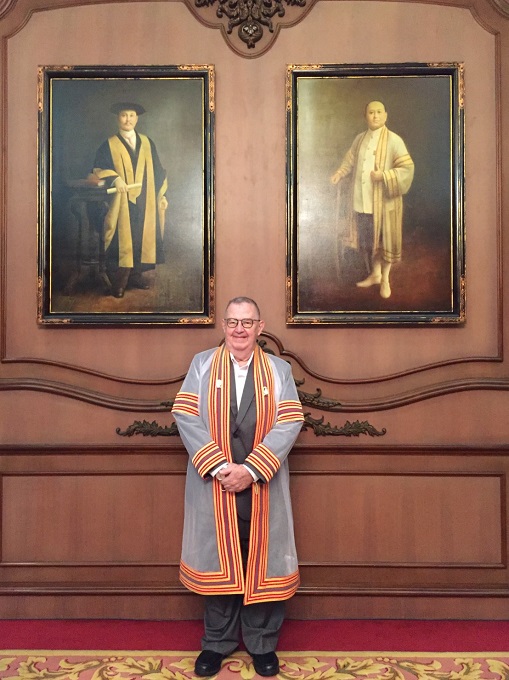 Professor Peter Skilling and Thai Buddhism
The Faculty of Arts congratulates Professor Peter Skilling (Bhadra Rujirathat) for his honorary doctoral degree from Chulalongkorn University which has been granted on October 1, 2020. Professor Skilling, a special lecturer at the Faculty of Arts, is a Buddhist scholar extraordinaire with commendable dedication to Thai Buddhism and Thai culture.  He has authored, edited, and translated several books on discourses of the Buddha and Buddhist art and literature.
His interest started from his study of Buddhism in Canada, his native country. After leaving Canada, he studied Buddhism in various parts of the world.  In search of living Buddhism, he travelled east to India. During 1971, when a war between India and Pakistan broke out, he decided to visit Thailand to learn more about Buddhism and, later, became a monk.  Having great teachers, especially meditation teachers, his fascination in Thai Buddhism grew deeper.  He then continued doctoral studies in France at Section des Sciences Religieuses en Sorbonne, Paris where he received his Doctorate with Honours and Felicitations of the Jury, Ecole Pratique des Hautes Etudes.  His dissertation was entitled Des Mahasutra tibétains aux manuscrits et inscriptions d'Asie du Sud–Est. Considérations sur les Mahasutra des Mulasarvastivadin.  His love for Thailand brought him back to work at the Bangkok based École française d'Extrême-Orient (French School of Asian Studies) in the position of Directeur d'Études until 2017.  Professor Skilling has been a special lecturer at Chulalongkorn University since 2014. 
As a philosopher in Buddhism, he became Thailand's representative in many international Buddhist study societies, such as Pali Text Society (Oxford, England) and Thai Chair of Theravada Buddhism, University of Michigan, Ann Arbor, USA (2015–).  He is also a member of Editorial Boards of various international Buddhist study publications, such as, Arts Asiatiques (Paris) and Wiener Zeitschrift für die Kunde Südasians (WZKS) (Vienna: 2009–). 
His recent work, How Theravada is Theravada: Exploring Buddhist identities, refers to Buddhism in South East Asia.  The book is a collection of essays with the purpose of defining Theravada Buddhism as being more culturally diverse than traditionally interpreted. Books on Buddhist studies in general have tended to provide a simplified and static view on the subject.  Theravada Buddhism practices in India, Sri Lanka, Myanmar, and Thailand, as a matter of fact, vary according to the culture of each country.  Buddhism is historically dynamic. As part of the society, Buddhism adapts to life styles and needs of the people. Thai Buddhism is distinctive in its rituals and ceremonies practiced by Buddhists and the chanting performed by monks.  With the purpose of providing serenity, harmony, and knowledge to the locals, chanting styles in each community vary.
To keep Buddhism in Thailand active, Professor Skilling suggests that manuscripts and important rituals need preserving the most.  To spark interest in Buddhist studies in Thai society, one needs to feed the people an official truth and make it contemporary. Even at present, new discoveries of several versions Buddhist manuscripts are occurring. More research is waiting to be completed on Buddhist manuscripts, inscriptions, and ritual arts to reach the core Buddhism.  This field of study, however, is still in need of scholars and those with true passion for Buddhism.  With his fascination with Pali, the main language of the Tipitaka, and his proficiency in German and French, Professor Skilling intends to translate Pali Buddhist texts into other languages.  He strongly encourages the study of Pali and wishes to make the language international. 
Professor Skilling is one of the indispensable figures at the Faculty of Arts. His support has been constant.  In addition to the constructive academic advices given to students and staff, Professor Skilling also facilitates international collaborations by connecting the Faculty of Arts with international institutions such as Khyentse Foundation and Bukkyo Dendo Kyokai (BDK), the Society for the Promotion of Buddhism. From these connections, the Faculty has enjoyed generous financial support in the area of Buddhist studies for our students and staff and has welcomed world renowned scholars, which not only helps maintain the Faculty of Arts' position as a leading institution in Buddhist studies, but also keeps Thai Buddhism alive.
Photo credit: Assistant Professor Arthid Sheravanichkul, Ph.D.
Biography credit: Dr.Natchapol Sirisawad